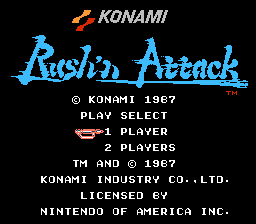 If you speedrun this game the story becomes a lot different. You're basically a track star who sprints his way through a Russian base to disarm their nuclear weapons and every single Russian enemy is way too slow to stop you. I say this because there was a point where I just kept running forward and this was the only thing I could think of.

In some ways I'm happy that we're finally starting to see some cold war games on our NES. I mean it's already 1987 so it was just a matter of time now, but this first one does just about everything I needed to see. Russian base, huge missiles, snowy mountains, really all it was missing was Zangief.

If it's not obvious I don't really have much to say about the actual game, it's mediocre at best and Konami will go on to make much better action games as time goes on. Speaking of action games, that is a pretty generic scope for a game, but how would we better define this? It's not really platforming (sure you jump, but you don't have to), it's not really beat em' up (you only really have to fight the bosses), so I think going forward action games will be the biggest genre of the NES. They are easy to reproduce and you could quite literally palette swap this game and say it takes place in a different time period and sell it to kids again.
THE VERDICT - NOT ESSENTIAL
CHECK OUT MORE COVERAGE OF ACTION GAMES BELOW