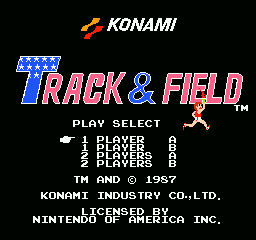 Maybe it's my bias as a long time participant of real life Track and Field kicking in, but this game surprised me with how much fun it was. All I knew about this game going in was that you have to mash the A button in the 100m dash. Didn't exactly scream INTUITIVE upon first impressions. Imagine my surprise when you don't just do the 100m dash, but the 110m hurdles, the high jump, skeet shooting, and more! Playing with an NES controller I have to say I'm impressed to be having fun mashing only the A and UP buttons.

This is the first time an NES Advantage controller has ever felt like something that would help improve my gameplay experience. Of course, putting your NES down on a flat surface and rapidly tapping the A button is also fun. Setting the controller to "turbo" is definitely not recommended. If you're going to do that, let me suggest going on Task Rabbit and hiring me to play the game for you.

So yeah, the game isn't essential by any means. Konami has released countless revisions to the Track and Field series and I'm shamelessly excited to try them all in order now!
THE VERDICT - NOT ESSENTIAL
CHECK OUT MORE COVERAGE OF SPORTS GAMES BELOW